Boasting more than 20 years' experience, Forjados Sanitarios Cáviti has been at the forefront of the manufacture and marketing of plastic formwork for sanitary floors and ventilated slabs.
The Cáviti System offers the technical suitability required in construction and in all types of industrial projects, mainly cold rooms and logistics centres, for the implementation of sanitary slabs and ventilated flooring systems with raised load capacity.
The Cáviti System, highly valued by industry operators within Spain and beyond it, is considered a product that comfortably meets quality and innovation standards. It is a system of plastic parts for the formation of permanent formwork in the construction of ventilated slabs, replacing the traditional floor ventilation solutions used until a few years ago and the less efficient systems with high maintenance costs based on radiant floors or with antifreeze fluids.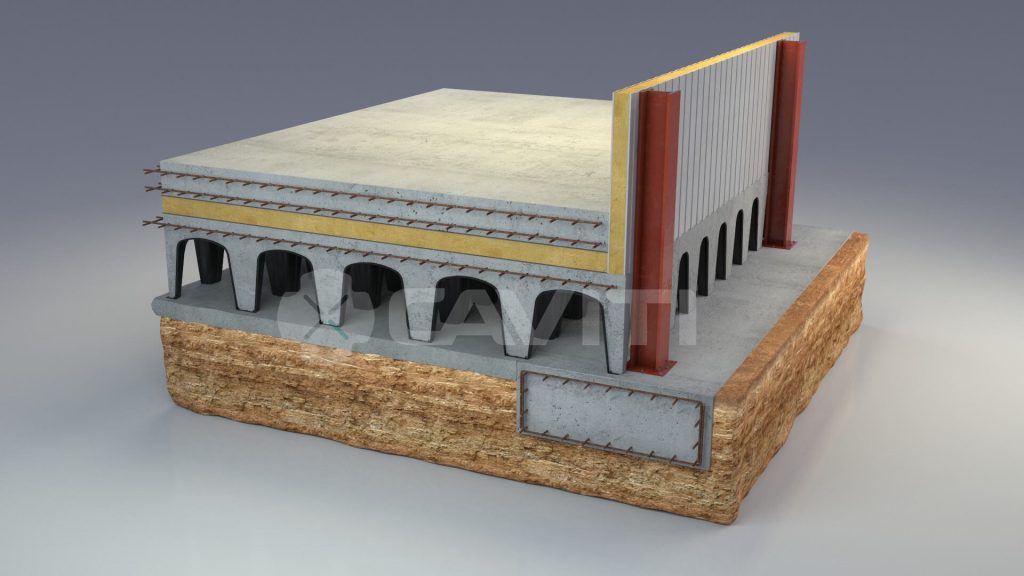 The company, specialised in this type of system, has made a resounding commitment to the food distribution sector.
In this way, the Cáviti system is not solely used in residential and non-residential building, yet also within industry. Worthy of special mention here are all kinds of facilities aimed at the storage and handling of goods, whether they are related to industrial cooling, logistics or storage.
We stress the success of the system in industrial warehouse projects for the storage and handling of agri-food products such as meat, fruit, vegetables and fish. In short, storage facilities in which, in one way or another, industrial cooling is present.
Forjados Sanitarios Cáviti develops its projects according to the needs of the client and offers efficient solutions, with a high load capacity and suitable for all types of industrial storage racks, whether fixed or automatic, providing the installation with greater ranges of ventilation, improvement in health, reduction of energy consumption, on balance, improving the project's overall quality.
The aim is to offer comprehensive support that begins in the design and project phase, and ends with the supply of the system and subsequent monitoring. To achieve this, the company has a technical team specialising in the field, capable of designing and adapting the system to both new buildings and buildings under renovation.
The Caviti System boasts the support of control bodies such as ITEC, which issues the DAU quality document, and the trust that its clients have given it in recent years in projects such as Campofrío, Quesos El Pastor, Iberfruta, Alsea, Bionest, MJ Meat Carn, Espuña, Primafrio,…